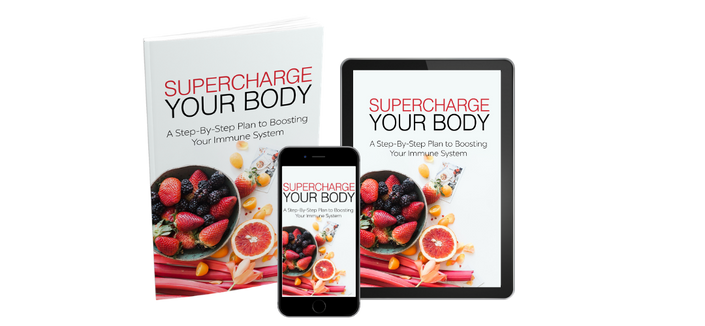 Supercharge Your Body Ebook
Step-by-step plan to boost your immune system!
Supercharge Your Body eBook ($17)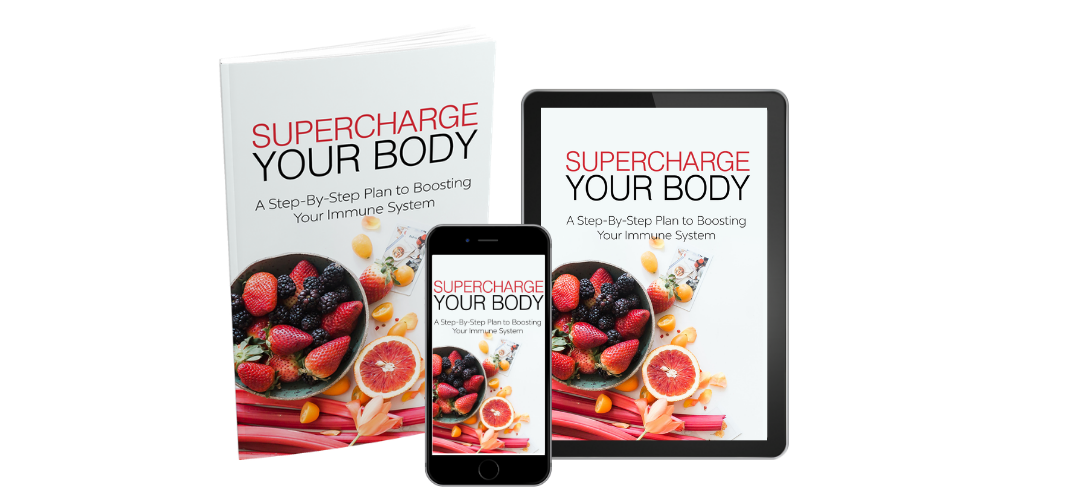 We're learning that many illnesses are now related to the health of our immune system.
A strong immune system seems to be linked to so many aspects of our life.
The food we eat, the quality of our sleep, and the level of stress are all things that are within our control to supercharge our body.
Yet, not many know the secret nutrients that make a virus unwelcome in their body and help fight sickness off.
Learn to transform your body and strengthen your immunity!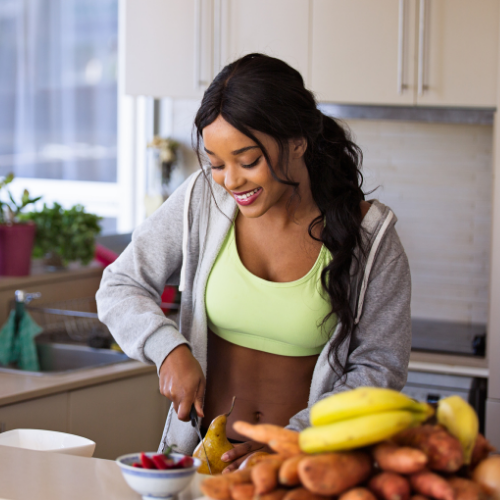 Maintaining a healthy lifestyle is an advantage when it comes to strengthening our immune system.
While most people adopt healthy behaviors when they are sick, you can create a lifestyle to be able to sustain your health and improve your immunity.
Did you know that certain nutrients will push away viruses?
The most astonishing finding on immunity is linked to food and nutrients.
Food is essential to our body to work optimally.
You can learn about the most critical nutrients in your diet and help strengthen your immune system.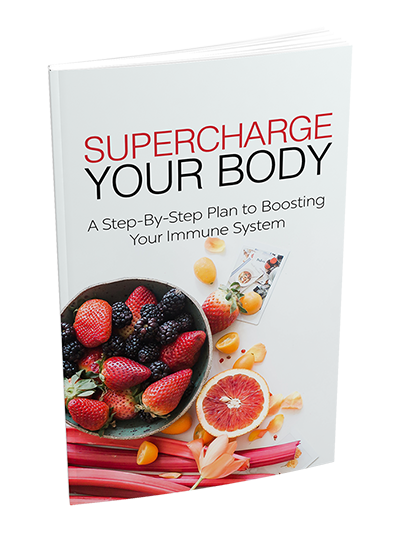 Are you ready to supercharge your body?
You'll benefit so much by going through this guide. Here are what you will learn in this guide:
How your immune system functions and what you can do to help it fight bacteria and viruses.
Exercises you can add to your workout to boost your immune system.
Foods that will increase your intake of nutrients vital to your immune system.
How to charge your immune system in 21 days and stay healthy.
6 supplements that are essential to improve your body's immunity.
2 simple ways to manage your daily stress and increase your immunity.
Successful techniques to detoxify your body of harmful antigens.
Practical ways to boost your immunity in your daily activities.
Customized activities that will help you apply the changes right away and start improving your immune system.
6 things to avoid if you want to stay healthy.
BONUS BUNDLE INCLUDED!
BONUS #1: Point-By-Point Checklist
View or print this handy checklist so that you can check off each point. It is like a summary of the entire guide but in actionable, bite-sized points so that you can successfully get through the course.
BONUS #2: Resource Cheat Sheet
You'll get over 50 additional resources that will deepen your knowledge and help you support your immune system.
A quick glance over this mindmap and you'll get an instant refresher of all the major points and action steps from the main guide.
Your Instructor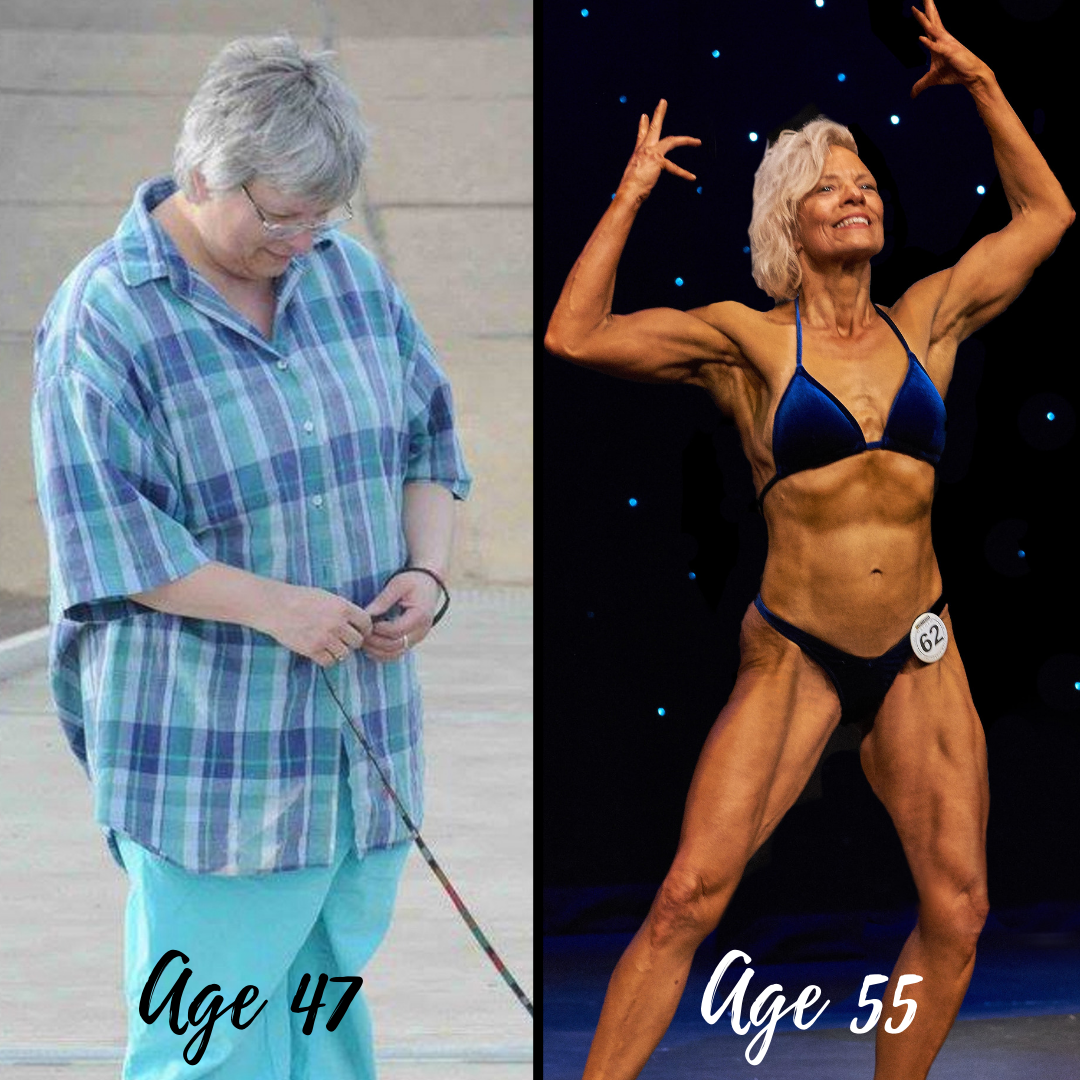 Hi! I'm Tammy! I was a busy, stressed, and unhealthy teacher until I decided to take control of my health. I did not become an athlete until I was in my 50's.
I earned personal training and fitness nutrition certifications, then retired from teaching to dedicate my work life to fitness education for other busy women over 40.
My results are obviously not typical because most people don't train to compete as a bodybuilder.
But I believe everyone can make positive changes with healthy habits! Each of us has a unique combination of strengths and challenges that need to be considered to customize a program that will work for us. Science-based principles, flexibility, and consistency make all the difference.
Course Curriculum
Supercharge Your Body
Available in days
days after you enroll
Frequently Asked Questions
Is this a physical book?
SUPERCHARGE YOUR BODY is an ebook in PDF form. You can read it on any device that allows you to view a PDF or you can print it.
How do I access it?
After you purchase it, you'll be directed to a page with a link to download it immediately. You'll also be sent an email with a link. Check your spam folder if you don't see an email in your inbox. You'll have access to it for the lifetime of this product on my site, but it is strongly advised that you download it and save it.
Can I share the download?
You do not have legal rights to share this ebook with others.
How will this help me lose weight?
You need to be in a calorie deficit to lose fat, meaning your daily calorie intake needs to be less than the calories your body burns for that day. This calorie deficit needs to be maintained consistently over time. Tracking food accurately helps you control this deficit. However, it is easier to create a calorie deficit if you're eating vegetables, fruits, lean meats, and exercising.
More?
Learn more at https://www.liftingmyspirits.com/supercharge-your-body/